Having a friend stay on Jinja for a prolonged period was a breath of fresh air. It's not that I found living on the island lonely, or that I didn't manage to get stuff done… it's just that life is soooo much easier when there's somebody to hand you stuff when you're halfway up a ladder, or help you carry the insanely heavy generator to the boat dock. I also found myself a little less concerned about doing something that might result in serious injury, such as fixing the roof or putting half a bottle of Bocas Hot Sauce on my chips, since there was somebody else there to raise the alarm if things went horribly wrong.
It's also good to have a sounding board… not having anyone around to ask "is this a good idea?" is a recipe for at worst, disaster, at best, a massive waste of time. I'm a great believer in the Socratic Method.
On Tuesday 9th, Lindsey and I travelled to Bocas for Mardi Gras. The devils were out on the streets again, whipping people who got too close and throwing firecrackers. I love these guys.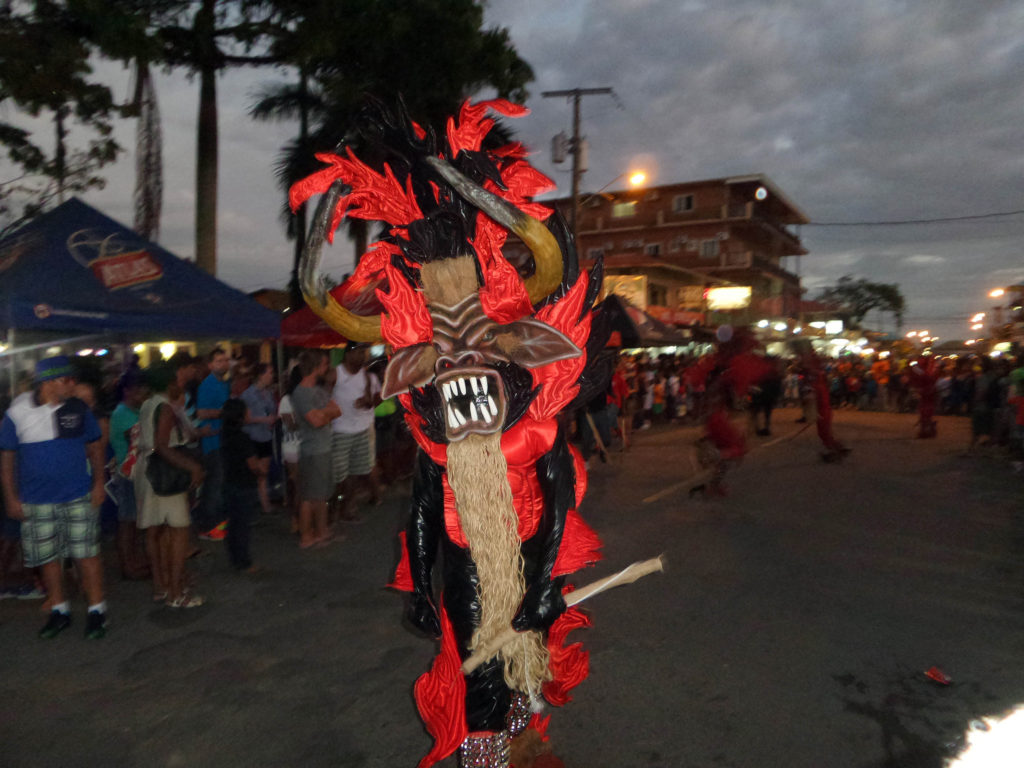 February brought another familiar face to our sleepy little party town on the Caribbean coast: Cesar Kuriyama, the legendary tech genius behind the One Second Everyday app, used to great effect in the Jon Favreau movie Chef. We had met up for beers in New York just before my appearance on SOS Island and it was only fair that I return the favour now he was in my neck of the woods on a surfing holiday.
We had a bonfire and barbecue on Jinja, and the next day went out for the now-legendary fish tacos at Valle de los Ranas, and then hit Toro Loco in Bocas Town to watch the utterly perplexing "Super Bowl" over a bowl of chili con carne and one too many bottles of Balboa.
Outside Toro Loco, I noticed a small matter I urgently needed to attend to…
The following weekend Jacky, my mate from the British embassy, came for a visit. We teamed up with Alastair, a British guy working at the international college up near Big Creek on Isla Colon. Shenanigans ensued.
After last month's Bowie extravaganza, I decided that if I was to hold more parties on the island (and goddamn I wanted to!), I'd have to improve access to the loo. With the current layout of the house, if people wanted the toilet they'd have to traipse through my kitchen, which is not great for security. However, if I was to build stairs coming down from the bathroom balcony, then I could lock my back door and not have to worry.
I gathered up all the bits of leftover wood I could find, and gave Fidel a call.
While Fidel and I were hard at work on the new flight of stairs, Lindsey took a week out to visit to Boquete, a town in the mountains about halfway between Bocas and David, and Panama's second favourite backpacker joint.
Lindsey got back a few days before my birthday on the 28th. As an early birthday treat, after spending a glorious day at Starfish beach together, she took me out for dinner at the very posh (and amazing) Firefly Restaurant on Bastimentos Island. Thanks Linds!
Since Lindsey was booked to fly out of the capital on the 29th, Jacky had invited us both down to crash at her gaff in Panama City for my birthday weekend.
So we hopped on the nightmare bus from Almirante and before you could say "10 hours later", we were in the capital. I'm making a bit of a habit of this.
Alastair was also invited.
Shenanigans ensued. Again.
On my birthday, I cooked up a delightful batch of beef scouse (lamb is incredibly hard to come by in Panama) in honour of Global Scouse Day. While it bubbled away on the hob we made the most of the outdoor swimming pool on the 15th floor of Jacky's apartment block.
And… oh yes… there was cake!
The 29th was a Monday so Jacky had to go to work (like a normal person) while Lindsey, Alastair and I went shopping for ridiculous hats in Casco Viejo.
And that was it. Lindsey's flight home was at 5pm, so after lunch it was time to say a fond farewell to me bezzie. It had been a fantastic six weeks. Will she be back (again)? Only time will tell.