Fidel was good enough to agree to look after the place and feed Campo and the chickens while I was away. He's currently doing a building job on a nearby island, so that worked out well.
As there were no direct flights between Panama and the UK, my flight home went via the USA. However, my ESTA (Electronic System for Travel Authorization) visa "waiver" was up, so I had needed a new one. This would be my third ESTA since they became a thing in 2009.
Now bear in mind that I'd only be transiting through America, a quick change of flights, I wouldn't be leaving the airport.
So I applied, a good six days before my flight… but now there's all these new questions: Where do you work? Who are your parents? (Disturbing question given current Republican frontrunner Trump has pledged to commit war crimes against the families of those who he deems terrorists.)
But the one that really tripped me up was, "Have you been to the following four countries in the last five yeas: Iraq, Syria, Iran, Sudan?"
It's a matter of public record [breaking awesomeness] that I've been to all of these countries, but all in 2010, which means I'm out of the "five year exclusion zone".
However, in December 2012 towards the end of The Odyssey Expedition, I passed back through Sudan on the way from Ethiopia to Egypt. I was there for three days. Getting a visa for Sudan from Addis Ababa was a freaking nightmare and to be honest with you, once in I was happy to get out of there asap – President Al-Bashir is not just a wannabe future war criminal like Trump, he's a bona fide wanted war criminal.
Although I did get to snap these sweet-assed pics at the Meroe Pyramids on the way through.
Now… to declare or not to declare? I have a new passport since I finished The Odyssey Expedition so I could have just lied. But I've heard enough horrific stories from my fellow travellers of being caught up in labyrinthine bureaucracy that is Homeland Security not to tempt fate.
I told the truth.
I clicked "Submit" and was assured that a decision would be made within 72 hours.
After 48 hours I was beginning to panic. It had never taken this long before. It was usually instant. I had already booked and paid for my non-refundable flight with United. I had applied for the ESTA six days before I travelled, that should be plenty of time.
72 hours came and went.
Then 96 hours.
By the 120 hour mark I was already on a bus to Panama City, what else could I do?
And there, on the back seat of the Almirante-David chicken bus winding through the mountains, the message finally came.
Travel Not Authorized.
I'll need to get myself a visa.
If I had got an immediate answer, or even one within the first 72 hours, I could have booked an appointment at the American Embassy in Panama City. But I was now within 24 hours of my flight. With no way of getting an appointment before take-off I had to cancel my flight. My super-expensive non-refundable return flight. Gah!
Plus I'm now on a list that includes terrorist sympathisers, criminals, drug dealers and Justin Beiber (probably).
A bit frustrating when you've set two Guinness World Records, raised thousands of pounds for charity, the TV show I presented is broadcast on the Travel Channel in the USA and I've encouraged hundreds – if not thousands – of people to travel the world. If you're reading this you might be one of them!
The visa process for America is labyrinthine and super expensive. I started filling out the form but had to stop because it was taking too long. You have to give them your inside leg measurement, the name of your first stuffed toy and the code to the safe in your bedroom. Not only that, you have to log your last five visits to the USA. Including my trips to the US overseas territories (all of 'em, by the way, I don't do things by half) I've been to the USA more than 20 times in my lifetime… but the time I punched in the dates, it kicked me off the site because it was taking too long to input the data!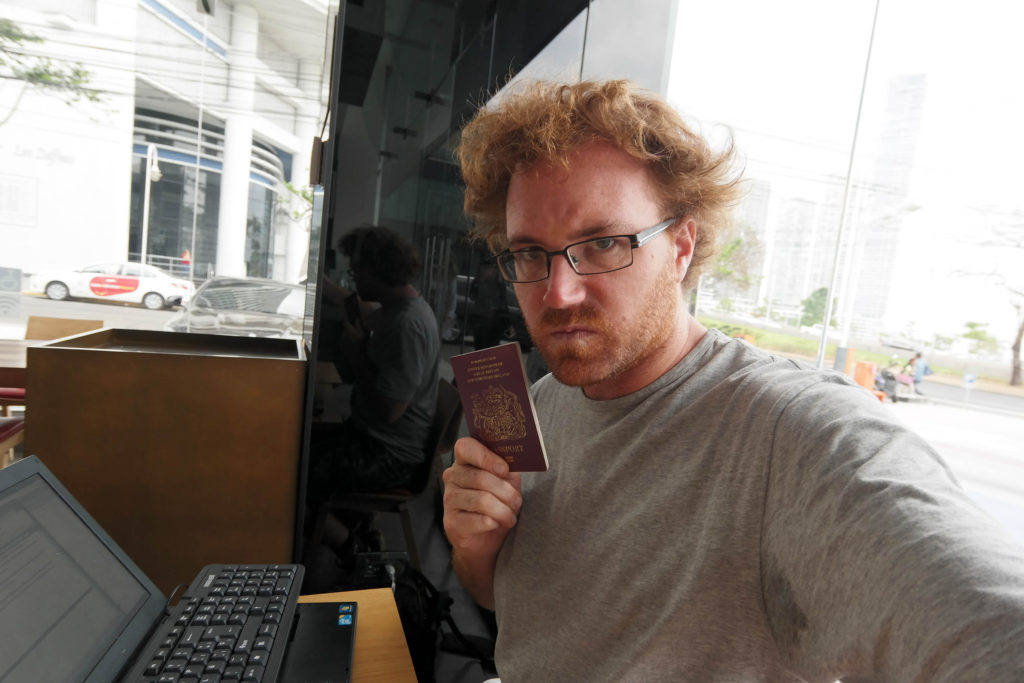 And that's just the damn form. You then have to book an appointment, travel to the capital city, pay for the visa, find somewhere to stay for a fortnight (the visa can take up to TEN working days to issue, and then wait until the bastard thing comes through… WHICH IT MIGHT NOT!! No refunds!!
So you know what country I'd be concerned that a British person had visited? Saudi Arabia. The clandestine nucleus of many horrors the world has seen over the past couple of decades.
I'd also consider it a red flag if they had been knocking about nuclear menace North Korea, anarchy-in-chief Somalia, Putin-dominated Russia and the small mountain principality of Andorra. I've always had my suspicions about Andorra.
However, the Saudi government spends untold billions on defence, and a good chunk of that money goes to arms manufacturers in both the UK and the US, so things are unlikely to change any time soon. If I was a little more spiteful, I'd petition the UK government to introduce its own ESTA-equivalent for Yank tourists coming to Blighty.
But I had neither the time nor the money to indulge in political horseplay. I had to find myself a new flight home!
I arrived in Panama City on the morning of the 22nd, lodged myself in a café, got online and with the help of my brilliant friend Jacky of British Embassy fame, managed to nab myself the last seat on a KLM flight home via Amsterdam for later that same day.
Thank heavens we'll always have Europe.
Right?