I wasn't doing so well on the island on my own, and my dad's 80th birthday was coming up, so I started looking at coming home for the holidays. My top travel buddy Alex Haynok put me onto the fact that WOW Air was doing insanely cheap flights back to the UK from Canada, one way via Iceland.
Even better, I found a budget airline that was flying from San Jose in Costa Rica to Toronto via San Salvador for buttons an' all.
Now the thing about Toronto is that it's super close to the Niagara Falls… and the border with the USA.
After close examination of the US's ESTA rules, it said I didn't need a ESTA if I was entering the US from Mexico or Canada. The publisher of my book, the very awesome Jared Bendis (brother of comic book legend Brian Michael Bendis) lives in Cleveland Ohio, about 4 hours drive from Toronto.
A plan formed in my crazy little head: I would overland it to San Jose, jump on a flight to Toronto, meet up with Jared, drive back with him to Cleveland, spend a few days working on Man of the World together, then return to Toronto and fly home in time for my dad's birthday party.
What could possibly go wrong eh?
So I booked my tickets, invited some friends over for one last drinkies on the boat dock…
Asked Daisy, a friend of Carmen and Lazare's, if she'd be so kind as to look after the island for a few weeks while I was away, said goodbye to the house (again)…
Said goodbye to Campo (again)…
I hung around in Toronto for the day as Jared made his way to me from Cleveland. It was bloody freezing. I caught a Tauros on Pokémon Go. Yes I know, I rock. To make Jared's life a little easier, I took the bus to the Niagara Falls to meet him there. He arrived around 8pm and after buying crucial fudge, we made our way down to the border and across the "Rainbow Bridge" which connects Canada to the US (or eka-Canada as I like to call it).
I was stamped out of Canada no problemo, but then when we arrived on the American side, the idiocy of my amazing plan became all-to apparent. You see, the Americans have these things called "computers", and since I applied for an ESTA to the US in April and had been rejected, these meddlesome "computer" things had put a big ol' red flag next to my name.
If there's one thing the Yanks hate, it's red flags. The USSR, Vietnam, China, the Confederacy…
And so Jared and I were ushered into an office where I was interrogated for a good three hours about who I was, why I had gone to Sudan all those years ago, why I wanted to visit America, why I wore such an awesome hat…
It went on and on and on. They wanted my signature, finger prints, they scanned my irises, they wanted to know the pattern to unlock my phone, my inside leg measurement, the airspeed velocity of an unladen swallow…
Eventually they decided that not only was I not allowed to enter America that night, they decided that I should be given nothing less than a lifetime ban on visiting America (even transferring flights) without a visa.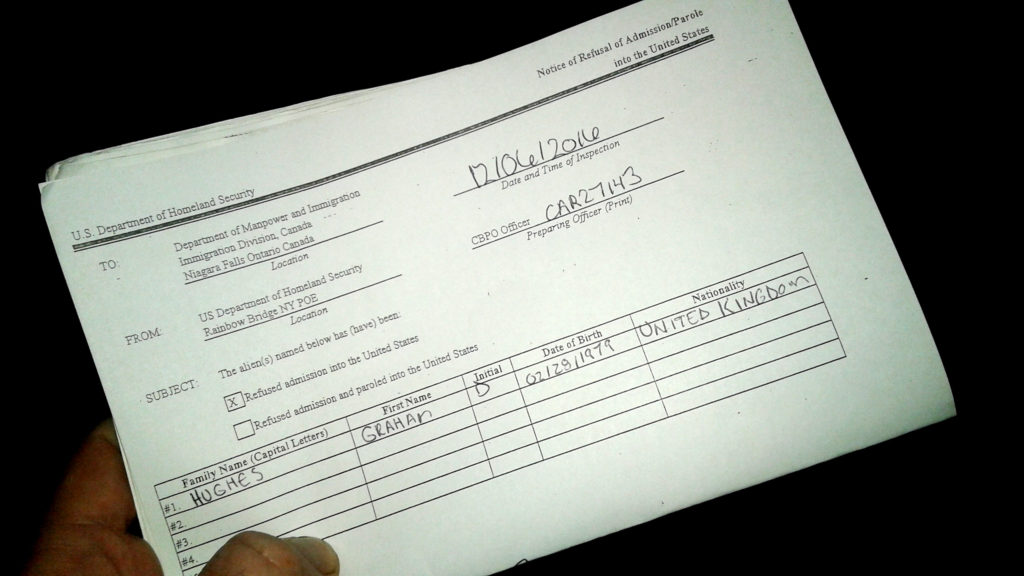 So how's 2016 working out for you, Graham?
Not so great, thanks for asking!
Jared was good enough to take me back over the bridge. It was past midnight and we were starving. We found a late-night casino that was still open and, since this whole sorry escapade reminded both of us of the shite I went through in Cape Verde and Congo while on the The Odyssey Expedition, Jared got us an ironic Pizza of Freedom™ to share.
Jared found me a hotel to stay for the night on the Canada side. I said he should stay as well, go back to Ohio in the morning, but he had stuff to do, proper job, all that malarkey. So while I got my head down at the Wingate Hotel, he trundled back along Lake Erie to Cleveland, arriving at some ungodly hour of the morning. I'm so very sorry Jared!
Jared also gave me his coat, because it was, to be fair, bollock-shatteringly cold, it being December in, y'know, Canada. Since I had spent the last two winters in nice hot tropical Panama, it had been a while since I had had icicles form on the end of my nose.
The next day I went to check out the falls in the daytime. Having spent two days at the Iguazu Falls on the border of Argentina and Brazil, my initial reaction was "oh". But I guess if you've not been to the Iguazu Falls, Niagara is an awe-inspiring place where you should almost definitely get married.
That afternoon, I get a message from my friend Janet who used to live in Bocas. Turns out she was back in her hometown of Toronto and had a couch that I could sleep on if I was at odds and ends.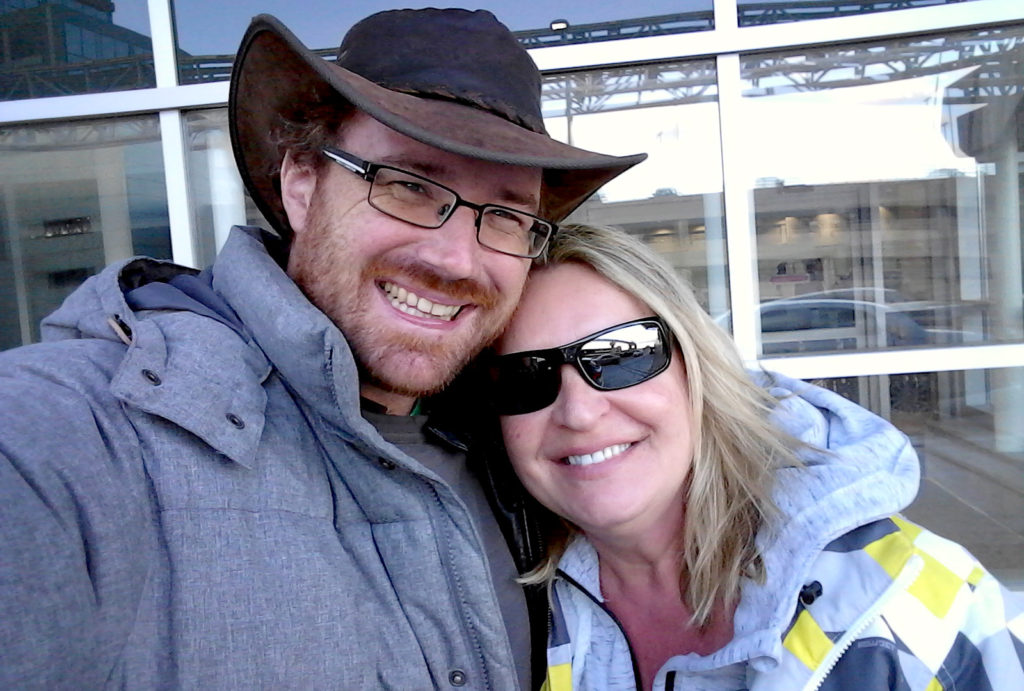 Janet you total lifesaver! I packed up my stuff and jumped on the bus back to Hogtown. There I filled my boots with Poutine…
…had a good mooch around the CN Tower (didn't go up it though, next time)…
…and Janet and I put the world to rights over drinks. It was just like old times in Bocas, except much, much colder.
A couple of days later I was back at Toronto International (which has the very strange airport code YYZ) and before I knew it I was whizzing through the sky back over the Atlantic Ocean to London via Reykjavík.
I arrived in Heathrow on the morning of December 10th. My 23rd and final landing of the year. The UK was grey and overcast (of course). I took the Underground to Euston and took the West Coast Mainline to Liverpool. My mum met me at the station, I dropped off my bags and then hit the town with my nephew Alan, as well as my boss mates Graeme and Steph.
The next day was my dad's 80th birthday party. He seemed to enjoy himself, but his language is disappearing. It's heart-breaking to see a man who was always so quick, so intelligent, so witty, fade away like this. He had a load of mates turn up though, so he must have done something right in his younger days.
I thought I'd be hope for about four weeks, although then that's what I thought over the summer. Even so, I tried to cram in as much quality time with my Liverpool friends as possible. I caught up with my hilarious old school buddy Glenn (and his gang)…
Met up for coffee with my gorgeous old schoolfriend Kathryn for the first time in, like, 20 years.
Had a very messy Xmas eve night out with old school soulmate (and Jinja Island alumni) Lindsey and her sister Sally…
Enjoyed Christmas Day with my dad.
Had Boxing Day drinks with my parents, my cousin Kenny and his wife Bernie. 
And caught up with even more old schoolchums: a very pregnant Michelle, as well as Mary, Paul, Peter and Debbie.
By now 2016, this most wretched of years, had given us the double nightmare of Brexit and Trump and taken from us so many of our favourite celebs, including our Globin King, our favourite queen, our sexy MFing Prince and our Galactic Princess.
It was time to take revenge. Screw you, 2016!! On New Years' Eve, Vicki came round and helped me with my 2016 effigy, which I planned to burn outside Lorna Brookes's house, as that was where I would be celebrating the end of this infernal year, a year that not only had a leap day, it was also getting a leap second. Man, this thing just can't take a hint, can it?
This was the finished product:
And here is me setting fire to it on the stroke of midnight (NSFW):
We lost so many greats this year that Chris Barker, the artist behind this collage (which is as incredible as it is devastating), kept on having to add more and more people to the damn thing, so many that he almost ran out of space.
I took solace in the fact that 2017 couldn't possibly be any worse that 2016, based solely on the fact that Bowie couldn't die again.