Wednesday 3rd October 2013
Sort of getting into the hang of things now, although everything is exhausting and hot and sweaty and hard. But, come on, this is survival-lite: we stay in an air-conditioned hotel every night… Just you wait till we get on that island… no air-con, biting insects, foraging for food… that'll sort the men from the boys.
In the morning, we have to be ready to go at 8:45am, and once we get on set, the morning is spent doing technical things, like getting mic'd up:
And then we play our own stand-ins for the rehearsals:
Yes, we are in the HEIGHT of hurricane season here in the Caribbean, but no problems so far…! So then the show gets underway. 16 of us, all mic'd, all doing pretty physical tasks in a hot, sweaty, humid environment… all doing our level best not to swear. Again, no video (yet), so here's some pics from the day:
I have to admit, I was massively impressed by Les's ability to make a fire with a fire-bow in less than two minutes:
And then even more impressed by Tan's fire-starting skillz that led our team to boily water victory:
And thanks to Liron for this amazing pic, taken on my Samsung NX.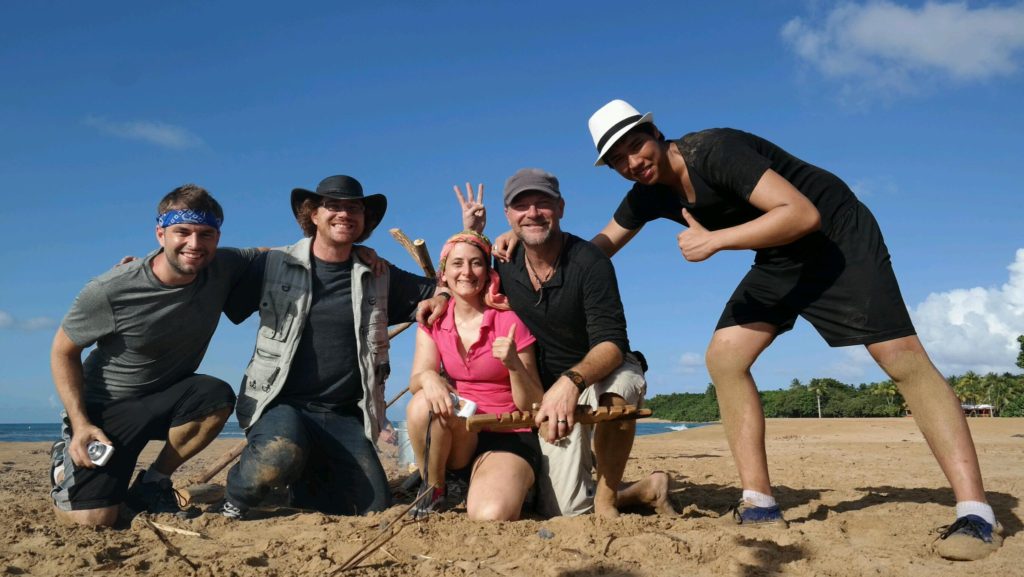 So then it was back to the hotel. Only I decided to head out into the Puerto Rican jungle to prepare for tomorrow's lesson in survival from Les Stroud. Which I'm pretty sure will involve stuff like this…
You should watch that last one. It's funny.