Monday 9th – Sunday 15th December 2013
Wow. So let's start at the beginning, shall we? On Monday I was flown over to Hollywood, California. At the time I still didn't know if I had won SOS Island or not. I was ahead when polling closed at the end of November, but not by a lot.
All of the other contestants were also flown over and it was great to see the gang again. We were all given Samsung Gear watches for our troubles.
On the Tuesday I was in the car of the production assistant going to pick something up for the big finale party for the winner of SOS Island later that night. We were chatting and she told me that I had to have my Gear linked to my phone because the announcement would come in the form of a text and they wanted it to appear on my watch.
"Does everybody else have to do that as well? I asked."
"No, just you… nobody else won."
Wait what?
"You won. You did know that?"
I politely if she wouldn't mind pulling over. I got out, threw my fists in the air and screamed at the sky.
YEEEEEEEEEEESSSSSSS!!!!!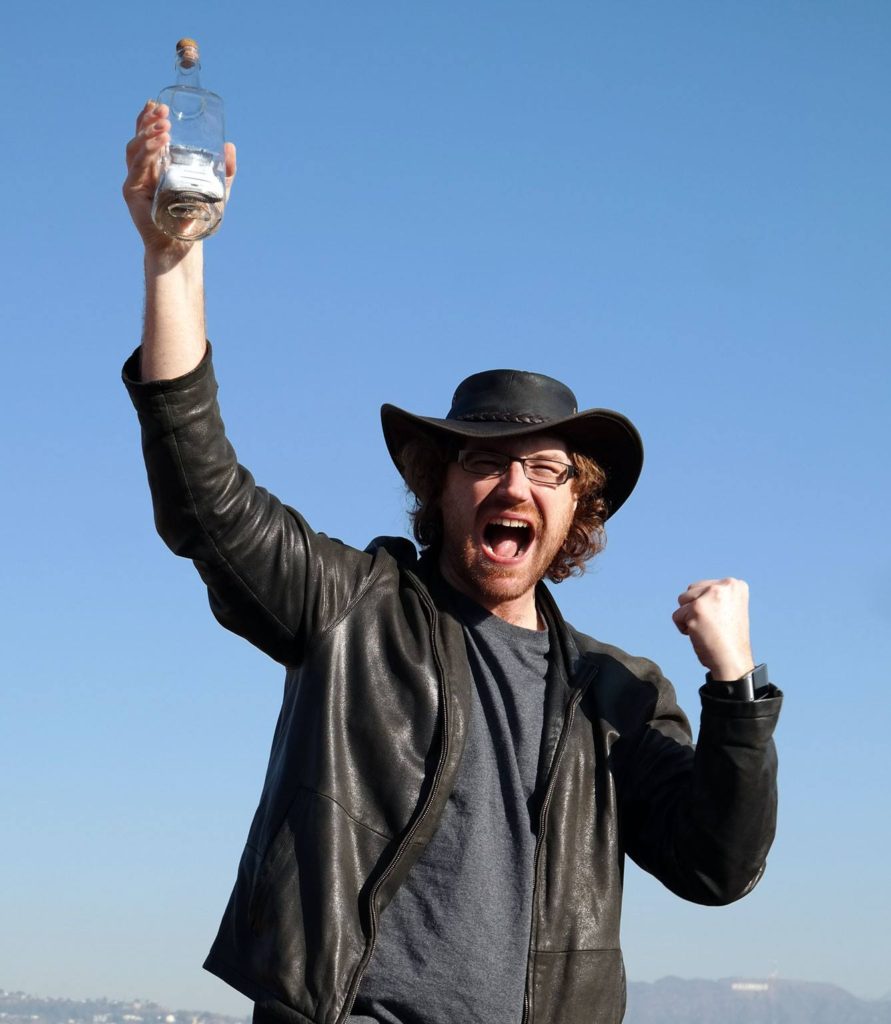 I was ecstatic. Coming off the back of what had been a difficult year, this was a happy ending beyond anything I could have imagined.
Onwards and upwards!
The next day we had an epic award party. I was handed the trophy by one of the top execs at Samsung, who had flown over from South Korea especially. In my acceptance speech I tried to thank everybody who had helped me win, playing those damn mini-games over and over… it went on for some time!
Afterwards Jo and I teamed up with Cole, one of our buddies from the production team, for a night on the tiles. We ended up in a seedy poker den, which culminated in Jo telling us that we had to leave immediately. We bundled into a taxi, chased by some irate guy who started was banging on the roof of the car saying we owed him a load of money. Drive drive drive!
The next day Jo and I trekked up to the Hollywood sign for shit & giggles, before joining production co-ordinator Israel for a late lunch at LA's Hard Rock café. After an interview with the lovely folks at The Nerdist, I was excited to find out that LA had an underground — there's only one line, but it's better than nothing. We dropped in on Universal Studios before heading back to the hotel for the night.
By the Friday, everyone else had gone back home, but since LA is a long way from Liverpool, I had asked the production crew (nicely) if I could possibly fly home the following Monday… I had a couple of old friends to drop in on.
I got myself a hire car and headed down to San Diego to visit Don Rosenburg, a US Navy engineer who I met when I was stuck on the tiny island group of Comoros, just off the coast of East Africa, back at the end of November 2009.
Once in San Diego, Don took me to the local bar (of course) where we met his wife Allesondra and we put the world to rights over a few beers.
You may recognise Don from such epic adventures as "The Odyssey Expedition" and "Dude, Where's My Wiener?".
I crashed that night at Don and Allesondra's. The next day I drove from the 330 miles from San Diego to Las Vegas to meet up with another face from The Odyssey Expedition: Matt McCaughey, a fellow traveller to every country who took great pleasure in heckling me all my way around the world.
I don't gamble unless I've stacked the deck, so there was none of the usual tomfoolery you might expect from a night in Sin City, but once back at Matt's gaff, I was very impressed his collection of antique maps. One in particular caught my eye.
I found myself intrigued by this place, "The Kingdom of Gingiro"… around where the modern day African city of Jinja in Uganda is situated.
I decided, there and then, that my island would be called "Jinja Island" and that I would be the GINGIR BOMBA of it.
Although I hope I don't end up with an island in a Spanish speaking country… "bomba" in Spanish means "water pump"… 😂
The next day we headed over to Red Rock Canyon to see some glorious rock formations (since you can't watch the nearby nuclear explosions any more like you could in the 1950s).
Afterward I said my goodbyes to Matt (no doubt I'll run into him again somewhere along the road less travelled) and continued east to the rather impressive Hoover Dam, thereby ticking it off my list of things to see before I die. I also grabbed a coffee mug from the state of Arizona. I've decided to make a collection: one mug from every state of the USA. One day my friends, one day!
All good things must come to an end, so I turned around and headed back to LA. I stayed that night with Buzz and Tanya, two of the producers of SOS Island. They couldn't be biased, of course, but they did seem quite stoked that I had won… and were intrigued by what I would do with the prize. On Monday morning it was time to head back to Blighty.
By now I had heard back from AJ Hackett; the bungy jump in Liverpool wouldn't be going ahead, unfortunately. And I still hadn't heard back from Guinness World Records!
But I had won a motherf***in' ISLAND, so can't complain! 😂
HUGE THANKS TO: Leo in Liverpool, LagMonster in Denmark, Segacs and Janet in Canada, Kendra and the Mohammeds in Egypt, Alex and Mandy in Oz, Dan in East Timor, Sachal in Sri Lanka, Maria in Puerto Rico, Rhonda in Virginia, Monica in New York, Chris & Debbie in Hong Kong, Mike in Ireland, Kerri in New Zealand, Odyssey stalwarts Dino, Lorna, gavinmac and Matt Lumby, Helen and Viv in Manchester, Chessie, Lindsey, Dan, Sally, Vicki, Matt, Matt and Matt in London, Stan, Helen, Si and Lol in Brum, Brian, Laura Soraya, Anna, Bootle Lass, Ste Webster, Tom Lox, Andrew Ab, Lucy and Tim, Adam and Owen, Mum & Dad, brothers Alex and Mike, my nephews Alan, James and Matthew and, of course, Casey… (to name a few!) THANK YOU ALL.
Jinja Island, 2014. Be there.